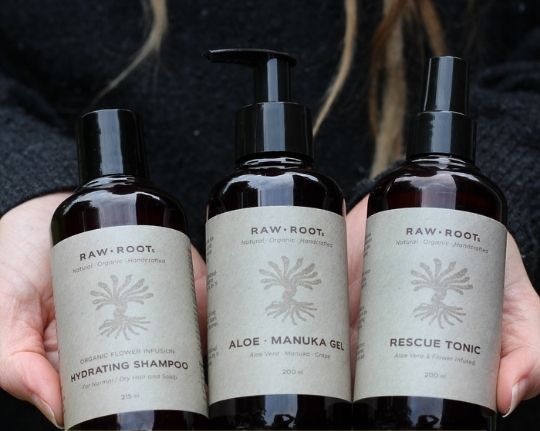 Which Raw Roots dreadlock care products are right for you?
Raw Roots are professional dreadlock products, which is specially developed for dreadlocks. All Raw Roots products are 100% biodegradable, vegan, natural, sulfate free and residue free. Raw Roots is founded by Lisa Møller back in 2011. It is very important for Lisa, that you are able to see and know what the products contain. Often well-known ingredients have other INCI names. Therefore, sea buckthorn oil can stand as Hippophae Rhamnoides Fruit Oil and shea butter, for example, stands as⁠ Butyrospermum Parkii Butter.⁠ ⁠ In all Raw Roots ingredient lists, the English name is always written in parentheses. ⁠⁠
Raw Roots' products have a high content of natural and active ingredients. All the dreadlock care products have a high content of active ingredients, so the products are effective, but at the same time they are mild and gentle. All of Raw Roots products can be used for real and synthetic dreadlocks.
Raw Roots have a wide range of products, all from cleanse with liquid shampoo, shampoo bar, refreshing spray, soothing spray, tightening spray, tightening gel and conditioning oil. We have made this guide, so you easy can figure out which products that suit your personal need. We will go through all Raw Roots different products, so you can find the right fit for you and your dreadlocks.
Liquid Dreadlock Shampoo
Raw Roots liquid shampoo can be used for both young and mature dreadlocks. They are based on plant extracts and active ingredients, that restore the natural moisture balance of the hair and scalp. Hydrating Shampoo is perfect for normal hair, dry hair and dry scalp. The dreadlock shampoo relieves discomfort and flakyness and helps against and itching scalp. Herbal Cleanser Shampoo is a good match for normal to oily hair and scalp. The pure essential oils from organic teatree and cedarwood help to cleanse and stimulate the scalp and leaves your dreadlocks clean and light.
Both shampoos are biodegradable, residue free and sulfate free. We recommend that you foam the shampoo up by hand before applying it to the scalp. Then you reduce the frizz on the scalp.
Raw Roots have three amazing shampoo bars, all made from organic and vegan ingredients and will leave your scalp and dreadlocks clean and nourished. The Greenie Genie is good for a normal to problematic scalp. Hemp seed, neem and stinging nettle oil strengthen the hair and help a troubled scalp. The Himalayan salt helps your dreadlocks to dread faster and tightening up the dreadlocks. Essentials oil from tea tree, mint and lemongrass leaves your scalp and locs refreshed, clean, in balance and with a cooling effect. The Muddy Luxury Shampoo Bar is based on coconut-, olive, jojoba- and cocoa butter. Which is the perfect combination for a dry, itchy and flaky scalp. Furthermore the rasul clay cleanses your dreadlocks and scalp in a nourishing and gentle way. The Simply Calm shampoo bar is a mild shampoo without any scent aded, its perfect for dry, sensitive skin and scalp. The organic oils from coconut, olive and avocado will sooth and nourish your hair. A shampoo bar is perfect fit for new dreadlocks. In addition, a shampoo bar is extra economical as the bar lasts for a long time. There is also zerowaste as the shampoo bar does not leave packaging.
Finish off by spraying your scalp with Raw Roots ACV Herbal Rinse, that is a natural apple cider vinegar treatment that closes the hair cuticles and the dreadlocks will dry faster.
Raw Roots' tightening spray is the perfect companion to tighten up your new dreadlocks and remove frizzy hair. Palm roll your dreadlocks with this wonder spray and it will nourish the hair with organic extracts from green tea and tea tree that boost your dreadlocks with antioxidants which provide protection for the hair. Green tea, sea salt and aloe vera will help tame frizzy hair and give a tight hold for the dreadlocks.
The Aloe Manuka Gel is the best gel for palm rolling your wonderful dreadlocks. Control frizzy dreads with Aloe Manuka Gel. Palm roll the gel into your dreads, and it will leave your dreads tighten, hydrated and healthy. ⁠ ⁠Aloe vera and manuka will nourish your dreads and gives a light hold. The organic essential oils that you find in the gel work as an antibacterial and provide a fresh smell of sweet lavender and fresh grapefruit.⁠ ⁠ Tip: It can also treat sunburned skin, due to the aloe vera that soothe and moisturize the skin. ⁠
The Rescue Tonic gives instant relief for an itchy and dry scalp. This amazing all-over spray is a combination of plant extracts that helps troubled skin and scalp by cooling, soothing and heal exposed areas.⁠ ⁠ Organic extract from witch hazel, chamomile, lavender, calendula, and comfrey soothes, calms and heals the skin. The essential oil from peppermint instantly relieves irritation with its cooling effect and leaves a fresh scent. Hydrated extract from corn and beets, along with organic aloe vera are natural moisturizer that provide long-lasting effect and protects scalp and hair.⁠ ⁠ The Rescue Tonic is mild and can easily be used on the whole body, to help with dry, stressed and irritated skin. The tonic is also exceptional as a refreshing skin tonic or facial spray after sunbathing.⁠
Tend to have an itchy and flaky scalp? ⁠ Hydrating Oil is 100% organic and intensive care for skin and hair. It restores the natural balance of the scalp and relieves and prevents itching, dryness, or flaking scalp and other skin irritations.⁠ ⁠ The base of this Hydrating Oil is pure organic vegetable oils with essential fatty acids that are necessary for the skin to function optimally. Organic Jojoba, Avocado and Evening primrose oil heal and soothe the scalp and is particularly suitable for sensitive and problematic skin.⁠ ⁠ The hair will be strengthened, softened, and nourished by natural antioxidants, vitamins, and minerals.⁠ Broccoli seed oil nourishes the skin and hair while preventing moisture loss. The oil closes the hair cuticle and protects it from drying out.⁠ ⁠ The essential oils from Ravensara, patchouli and Sandalwood, are pure scalp therapy, that stimulates blood circulation and has a strong antiseptic effect. On top of being tallow-regulating, it smells like a walk in the deep forest.
Lisa recommends that you detox your dreadlocks every 3-4 months to remove dirt, build-up and impurities. Dreadlock shampoo is great for weekly haircare routine, but it is necessary to get cleansing in depth, and the Detox Kit from Raw Roots is a good choice. Soak your dreads in the natural and organic cleansing bomb and finish off with the ACV rinse, to closes the hair cuticles and to pH neutralize the scalp and hair.
If you want to learn more about the founder LIsa and the amazing Raw Roots dreadlock haircare series, you can read here.