Meet our Dreadlock stylists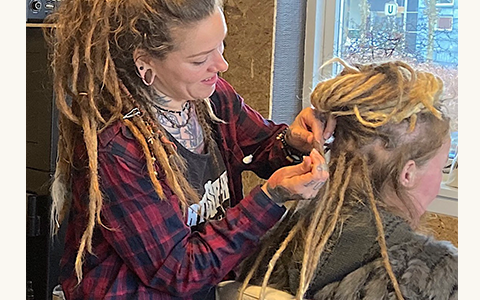 Elsa
Elsa has been making dreadlocks since 2016, and is our expert in dreadlocks regardless of hair type. In other words, she is a really skilled dreadlock hairdresser, and she can be found in our salon on Mondays and Thursdays, where she is busy making or repairing dreadlocks or putting in extensions. :-)
Elsa tells how she started making dreadlocks: "It started with me making dreadlocks myself. But then I wanted to be able to make and fix them myself, and then it became a sport. Then I started making dreadlocks on friends and acquaintances, and then it just took off since then"
"For me, making dreadlocks is a bit like meditation - it's cozy and then it's a nice human contact, where there's room for both silence and conversation"
"All dreadlocks are cool, but for me I like a natural look - the more natural the better. It must be a bit messy"
Karina
The newest addition to our hairdressing team, with personal experience in dreadlocks. Has good basic techniques, under the training of Elsa and where Karina quickly gains more experience.
Karina had her own dreadlocks made in 2020, which for her was a life-changing experience that brought a lot of good with it, including a passion for dreadlocks.
"For me, being able to share this passion with our customers and give them a good experience is an everyday highlight"

We look forward to making or repairing your dreadlocks or extensions
Make your appointment now!