The Twist n' Rip Technique
Twist n ' rip has many advantages and is easy to access, but you have to practice before you master it.
How to do it:
Step 1
Section the hair, either with or without elastics. Elastics makes it easier to keep track of how far you have come and makes the sectioning equal.
The sectioning is up to you. You can make random or stay to the similar sections so all dreads get similar size. I recommend sectioning between 1 – 3 cm so the dreads don't get too big or thin.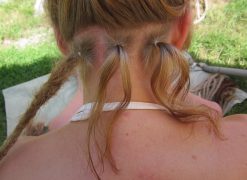 If you choose to use rubber bands when sections are finished, spray the hair with tightening spray or your own mix of tightening gel and water. (if you do not use rubber bands, it's a good idea to spray it before you start sectioning. This makes the job much easier and get your new dreadlocks to tighten up immediately.
Let it dry , or use a hairdryer.
Step 2
Then you start to twist and rip, first you twist the hair half a turn at the bottom, hold it tight and then separating the ends at random and pulls them apart. (no need to force the hair ) Repeat twist and then separation which is also shown in the video.
If you 'd like your tips perfectly round, you can use the method as shown HERE.
When you are finished with all dreadlocks, it is important to continue with palm rolling regularly so that the hair can dread up and remain round and beautiful.
You can use tightening gel or wax to hold the loose hair and help the locking process. Find all products for tightening here!
How to Twist n rip dreadlocks – Video guide!